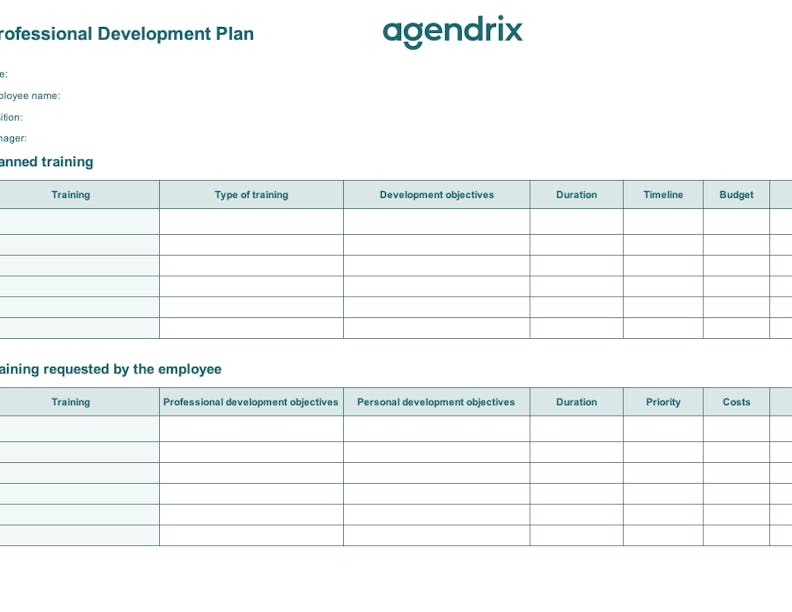 Professional Development Plan Excel Template
338.27 KB / .xlsx
---
What's in it?
This Excel professional development plan template allows you to properly plan and document the professional development of your staff.
Frequently Asked Questions
.
Here are some answers to your management woes.
What is a professional development plan?
A professional development plan brings together all the actions put in place by an employer to enable its employees to develop their knowledge, their know-how (hard skills) and their interpersonal skills (soft skills).
The professional development plan includes both mandatory training and those suggested by employees. One-on-one meetings, annual performance reviews, and skills assessment are opportune moments where the manager can discuss skills development with their employees.
Why set up a professional development plan?
Establishing a professional development plan allows companies to better structure the knowledge development of their workforce around strategic objectives. This also ensures the versatility of the employees and makes it possible to train a succession that can occupy strategic positions within the organization.
The professional development plan allows employers to assess which skills their employees should develop in order to ensure the sustainability of the company's activities in the long term and to combat the labour shortage.
What is a professional development plan for?
The formalization of the professional development plan is not required by law, but strongly recommended to monitor in particular:
Identifying employees who need training
The prioritization of training (mandatory or not)
The necessary training that employees must receive
The budget needed for skills development
Professional development of team members
The steps after the training, such as the implementation of skills assessments
How to write a professional development plan?
A professional development plan should gather the information needed to track the progress of team members.
Employee development goals (aligned with company goals)
The development activities chosen: training, mentoring, co-development, coaching, job rotation, etc.
The necessary budget
The training schedule
Key indicators to measure employee progress, such as the percentage of completion of online training or the number of hours of training received
What is the difference between a professional development plan and a training plan?
The objective of the professional development plan is to train employees to advance their careers. The skills development plan includes training, skills assessment, and validation of acquired experience.
The training plan, on the other hand, brings together in a document all the training that employees must follow to perform their duties within a company. It can include, among other things, training for new work tools or for health and safety.
What is the best format to document a professional development plan?
Popular formats used by managers to track the skills development plan include .docx (Word) or .xls (Excel).