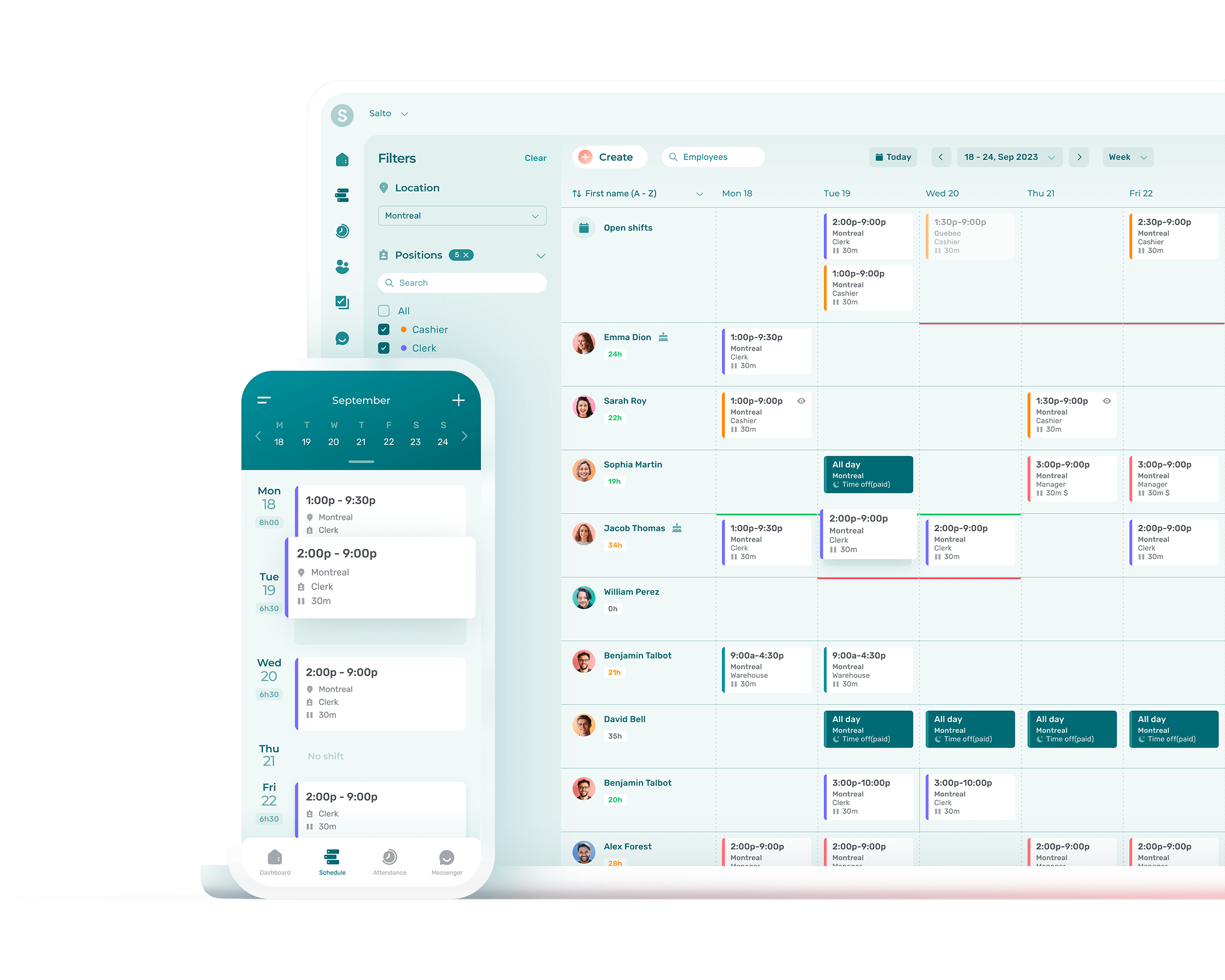 Retail scheduling and management software
Retail management and scheduling made simple.
Agendrix helps you create and share work schedules in your store. Simplify your scheduling by managing availability, time off, and shift swaps with one convenient tool. And by making the schedule available online and via the mobile app, there won't be any more oversights.
No credit card required. Up to 21 days of free trial. 7-day support.
Retail employee scheduling software
Here's why thousands of retail stores rely on Agendrix.
Meet labor cost objectives
See if you're on budget directly from the schedule, with automatic calculation of daily labor costs by department.
Avoid ambiguity and everyday mistakes
With Agendrix, schedule changes are displayed in real time in the schedule, which is always available online and on mobile devices. You can even see which of your employees have seen their schedule.
Finding replacements quickly
Find replacements quickly by creating open shifts at the click of a button, with a clear view of everyone's availability and preferences. If you allow it, your employees can even swap shifts.
Communicate easily with the entire team
Reach your employees instantly via Agendrix's professional messaging tool; stop wasting time on the phone, exchanging text messages, writing Facebook messages, or sending unread emails.
Retail scheduling software
Here's how Agendrix helps retailers manage better.
Here's a look at what makes Agendrix an indispensable tool in many retail stores worldwide today.
Leave requests
Your employees submit their leave requests to you via Agendrix, where you can review and approve them in an instant.
Availability management
Periods of availability are always displayed clearly to avoid conflicts and better respect everyone's personal schedule.
Labor cost calculation
Several automatic or ad hoc reports let you monitor various aspects of your budgets, including labor costs.
Shift swaps
Your employees can arrange to swap or transfer shifts between themselves. When you approve, the schedule automatically reflects the change.
A single, up-to-date schedule
The latest version of the schedule is always at your employees' fingertips, via the Agendrix mobile app or any web browser.
Open shifts
Self-service shifts allow employees who wish to do so to fill certain time slots. The perfect way to help you fill the schedule.
Break tracking
Agendrix shows you which employees are currently on break and records the exact start and end times in timesheets.
Internal messaging
Avoid the proliferation of communication channels with your own professional chat system.
Read receipts
Read confirmations let you see who is actually up to date with the latest schedule changes.
Mobile apps
Agendrix for mobile (iOS and Android) lets anyone access their schedule at any time.
Retail staff scheduling software
Keep track of clock-in and clock-out times.
Agendrix also offers a time and attendance system to track the work hours of your employees. By combining clock-in/clock-out and the schedule, you gain full control over your team's work hours.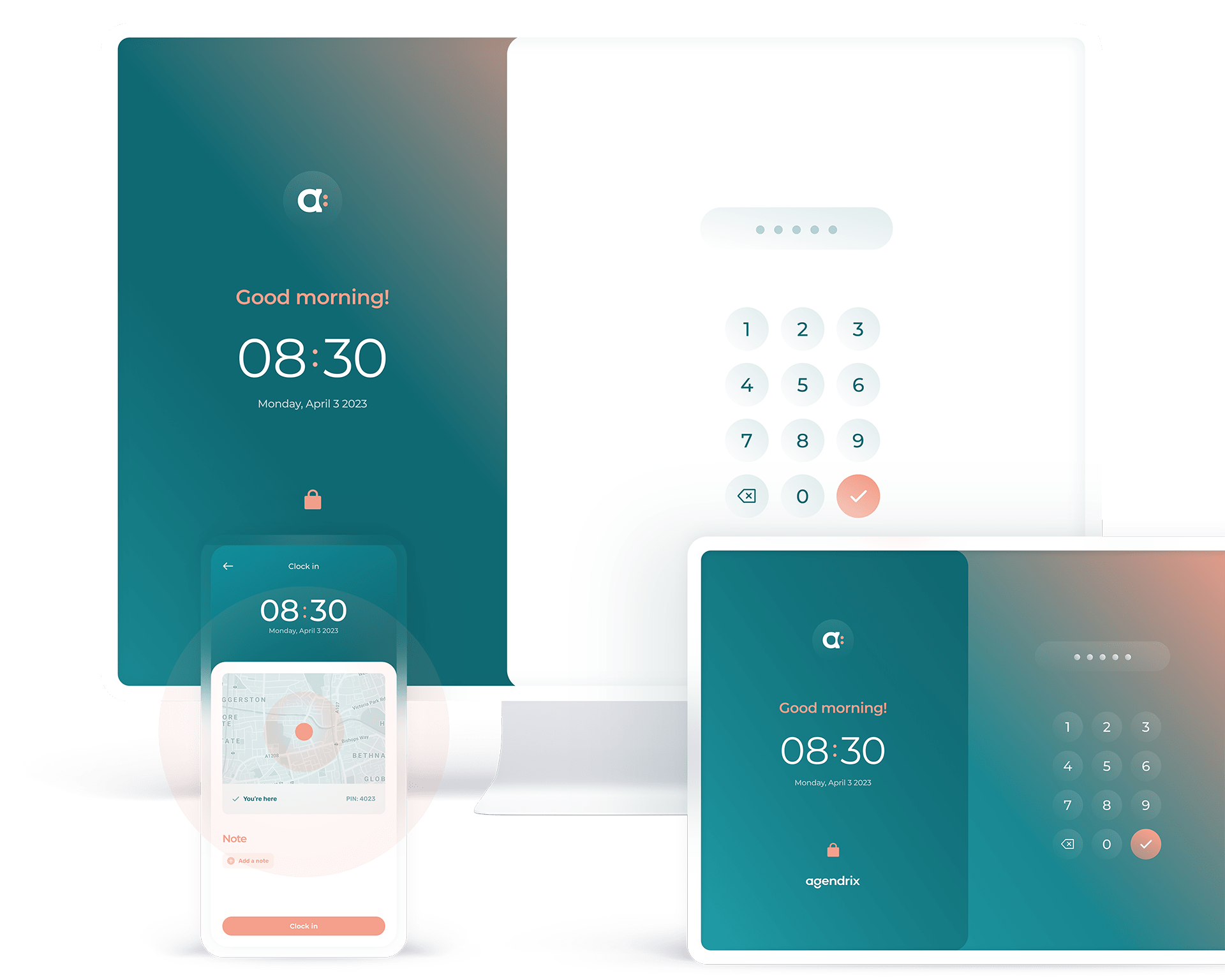 Track clock-in/clock-out accurately
Any clock-in/out data is stored instantly in your organization's online HQ in Agendrix, ready to be reviewed or edited by approved managers.
Clock-in terminals from your devices
Turn an existing iPad, Android tablet, or computer into a clocking-in terminal. No costly equipment needed; just install the Agendrix app, assign PINs, and go.
Lateness alerts
Email notifications inform you of any lateness or absence based on the scheduled work hours to help you react quickly.
Curb time theft and buddy punching
For added security, Agendrix can be set to use facial recognition to identify the user on clock-in.
Export hours to your payroll system
Agendrix integrates with many popular restaurant payroll software. You can also generate an Excel report to help you import the hours into your system.
HR management software
Manage your human resources with ease.
With its complementary HR features, Agendrix can also become your one-stop shop for managing your store's human resources.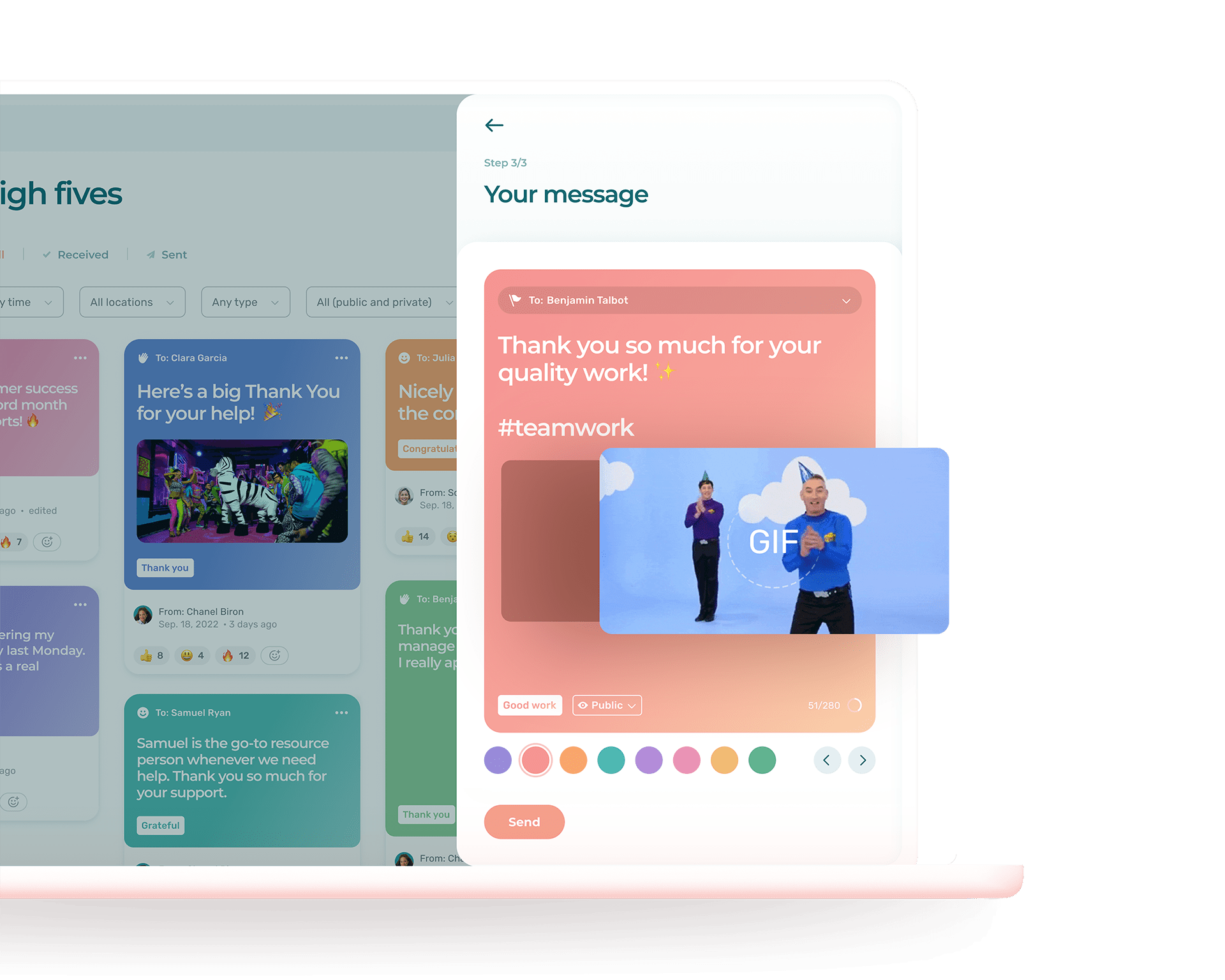 Create surveys, get great feedback
Create custom surveys you can then share with the members of your organization in a click. The software does the response collecting to let you focus on taking action.
Your space for employee recognition
High fives involves both employees and managers in the creation of fun recognition cards that help highlight the little everyday successes that too often go unnoticed.
Records to keep your HR organized
Agendrix centralizes and organizes your HR files. Keep work hours, important info (allergies, emergency contacts, etc.), personnel files, and professional communications in one convenient location.
Smooth onboarding and integration
Structure the onboarding of new staff in your organization while seamlessly collecting the HR information you need for their personnel file.
Discover Why Managers Love It
Can Agendrix help you better manage your pharmacy? Absolutely; their testimonials speak for themselves.
How long will it take to implement Agendrix in my store?
You and/or your managers can easily get started with Agendrix in just a few hours.
As the application requires no installation or extensive technical know-how, the most time-consuming step is usually waiting for your employees to connect to Agendrix for the first time.
What's more, our support team will be happy to assist you during implementation and provide any necessary training, free of charge. This service is included and unlimited.
Is your online store employee scheduling software also available via an app?
Will all my retail staff always have access to their schedules?
Yes, provided they have Internet access and an Agendrix account in good standing.
How can I use your retail management application to manage time and attendance?
How can I communicate with and manage my store's staff if an employee can't show up for a shift?
The open shift feature lets you add unassigned shifts to the schedule. Creating such shifts generates a notification inviting employees who meet the requirements (appropriate position, no schedule conflicts, no overtime, etc.) to volunteer to fill said shifts. Very handy for finding substitutes quickly—and to let those who wish to work a little more hours do so.
How can I create a shared schedule across multiple stores?
Agendrix lets you create separate schedules for each of your stores. You'll also always be able to see which employees have already been scheduled globally. This is a great way to avoid assigning the same person to two separate branches by mistake.
To find out more about the best way to manage multiple branches, please refer to our article on this subject in our Help Center.
How can I keep track of the hours worked by my staff in my stores?
Is this a free store scheduling app?
There exists a free version of Agendrix. Although much more practical than Excel for managing schedules, it is far from ideal. In particular, it doesn't allow you to communicate with your employees, an essential feature as far as retail schedule management goes.
We urge you to launch a free trial (up to 21 days) to discover Agendrix and its many features. This trial will let you judge whether the solution is the right one for your business, with no commitment or payment required on your part.
Does your free retail software allow you to calculate days off?
Yes, the free version of Agendrix allows you to calculate days off in the schedule.
The full version of Agendrix even lets you receive leave requests directly from your employees and to categorize them (vacation, sick, etc.).
Why use a retail HR software?
HR software is particularly useful for simplifying employee onboarding and integration processes, as well as for computerizing HR files.
What is a retail employee scheduling software?
An employee scheduling software for retail stores is a cloud-based program or application that automates certain processes related to scheduling, such as creating and sharing schedules, communicating with employees, and tracking time worked.
Can I print my store's schedule with Agendrix?
Meet your complete
management solution.
From scheduling to payroll and employee onboarding to HR management, Agendrix has you covered.