Employee Availability: Availability Management Tips and Free Printable Form
Following the best scheduling practices allows you to track your employees' availability and assign tasks accordingly. It not only reduces confusion, but shows that you respect your employees' time and capacity when assigning tasks.
In this article, we'll explore the most efficient ways to confirm your staff's availability and take a look at how employee scheduling software helps to boost productivity and overall employee satisfaction.
What is employee availability?
Employee availability is the time your employees commit to work for you during a specific period. By indicating their availability on record, they indicate that they'll set aside that timeframe for work only.
Checking employee availability is especially important when you've suffered the consequences of last-minute schedule changes and wish to avoid the uncertainty and disruption these changes create.
Confirming each employee's availability in advance helps you build an up-to-date schedule for your employees and ensure continuous productivity.
Optimized schedules ensure the right staff coverage to meet demand. Employees can quickly pick up open shifts for extra income. Managers have the data to align labor to peak periods. It's a win for operations, finance, and workforce morale. — Gianluca Ferruggia, General Manager at DesignRush.
How do you ask for your staff's availability?
Scheduling managers may still ask their employees to fill in their availability on paper or via email—and then use spreadsheets to collect and keep track of that data.
Employment availability forms are an effective way to learn about your staff's availability, but managing them manually requires excessive amounts of energy and time. After all, once the forms are complete you still have to compile, transcribe, print, file, and interpret the data you gathered, all of which amounts to an exhausting process.
This manual scheduling can waste about 20% of a manager's time—time that could have been invested in other critical tasks. When faced with an influx of information on a daily or weekly basis, managing an employee schedule manually becomes a daunting task. This approach also creates more scope for human errors, which can cause unwanted problems further down the line.
On top of all these drawbacks to manual scheduling is the fact that these methods don't add any additional value other than logging your employees' availability.
For example, they don't help you make faster decisions about assigning tasks. And since there are so many better, automated approaches available—like Agendrix—manual scheduling should no longer be seen as a viable solution to managing employee availability.
What are employee availability forms?
An employee availability form is a formal piece of paper or an online form where employees input the dates they're available to work and the dates they aren't.
Ideally, these forms should have the following fields:
Employee contact details
Days and hours your employees are available to work
The days and hours they aren't available
A section for special notes
The date
A signature for both parties (employee and employer)
For example, here's a free employee availability form by Agendrix that helps you log and track your employees' availability weekly. You can download the form and print it out to use as is or create a similar online form to digitize and fast-track the process.
5 benefits of using availability forms
1. They help you manage employee availability during peak hours
On average, employee absenteeism costs $3,600 per hourly employee every year in the US. This problem can become a nightmare during peak hours, when you're bombarded with work and find yourself with fewer available resources in your team.
Thankfully, by implementing proper employee availability management using employment availability forms, you'll know how many employees might be absent from work during peak hours and be able to plan accordingly.
You can schedule additional workers during these times or outsource some of the work to manage high-demand days more effectively.
2. They improve employee retention
When you have accurate employee availability confirmed in advance, you free yourself from the stress caused by last-minute scheduling mishaps. It also helps to reduce frustration for you and your employees.
Your employees will only cover shifts they signed up for, helping them to feel happier and more valued! This helps to increase employee retention and engagement.
Automating tedious scheduling tasks frees managers to focus on the bigger picture of workforce planning and strategy. Scheduling software also improves transparency and flexibility with shift swapping and mobile access. — Gianluca Ferruggia, General Manager at DesignRush.
3. They reduce conflicts with scheduling
With an accurate scheduling plan, you won't need to reach out to your employees asking them to cover each other's shifts at the last minute. Removing the frustration caused by these last-minute changes will increase respect and trust, and encourage your employees to get on board and help you meet deadlines.
4. They optimize your hiring process
With proper schedules filled out in advance, you'll know if you need to hire more team members to cover shifts. And thanks to the extra insights you'll now have, you can specify which specific shifts you're hiring for in your job ad, and ensure you're attracting the right candidates.
5. They help reduce absenteeism
When employees have the option to register their availability and preferred working days and hours, they'll likely feel more motivated. Plus, workplace flexibility is shown to decrease absenteeism.
What industries use employee availability forms?
If you're a manager who oversees multiple employee shifts on different days and times, employee availability forms are essential, no matter the industry you work in.
But if you work in any of the following industries, you might find availability forms particularly useful for employee scheduling:
Catering
Construction
Cleaning services
Events and recreations
Healthcare
Homecare
Hotels and hospitality
Pharmaceutical
Retail
Security services
These examples are just a few of the industries where availability forms are used to increase efficiency and boost productivity, but they are relevant to a vast range of sectors and are useful in almost any workplace.
Limitations of using an employee availability form
1. Information is static
While employee availability forms help you confirm your staff's schedule of availability in advance, the information they capture is still static. As such, you won't know when employees change their schedules due to unforeseen circumstances or personal emergencies.
2. It offers limited flexibility for contract workers
Employees with dynamic schedules, like your contract workers, might find it hard to register their availability accurately. This may be due to irregular working patterns and other commitments.
3. It requires great discipline
Filling out an availability form for work on a weekly basis requires a significant amount of dedication and consistency from your employees. Some employees might forget to fill in their availability or even ignore the form, leaving you with incomplete data and the extra task of chasing people up for their information.
4. It's cumbersome for managers
Managers need to collect, process, and integrate the data collected through these forms, which can be time-consuming and exhausting. And an exhausted mind is more prone to making errors.
How using employee scheduling software improves availability management
To make real-time employee schedules and save yourself time, you need to invest in a schedule maker to automate employee scheduling.
As well as enabling you to schedule employee availability, automating will help bring flexibility to the process and make data analysis and decision-making much easier.
Streamlined, data-driven scheduling enabled by today's software removes significant friction while adding flexibility. For both managers and employees, it delivers the right schedule at the right time—a huge boost for execution. — Gianluca Ferruggia, General Manager at DesignRush.
Here's how Agendrix, an employee scheduling software, helps to streamline the process.
Step 1: Employees submit their availability directly from the software's web or mobile apps.
Added benefit: schedule managers no longer have to compile, print, file, transcribe, and interpret information.
Step 2: The employer and the schedule manager see employee availability that appears automatically in the schedule planning interface.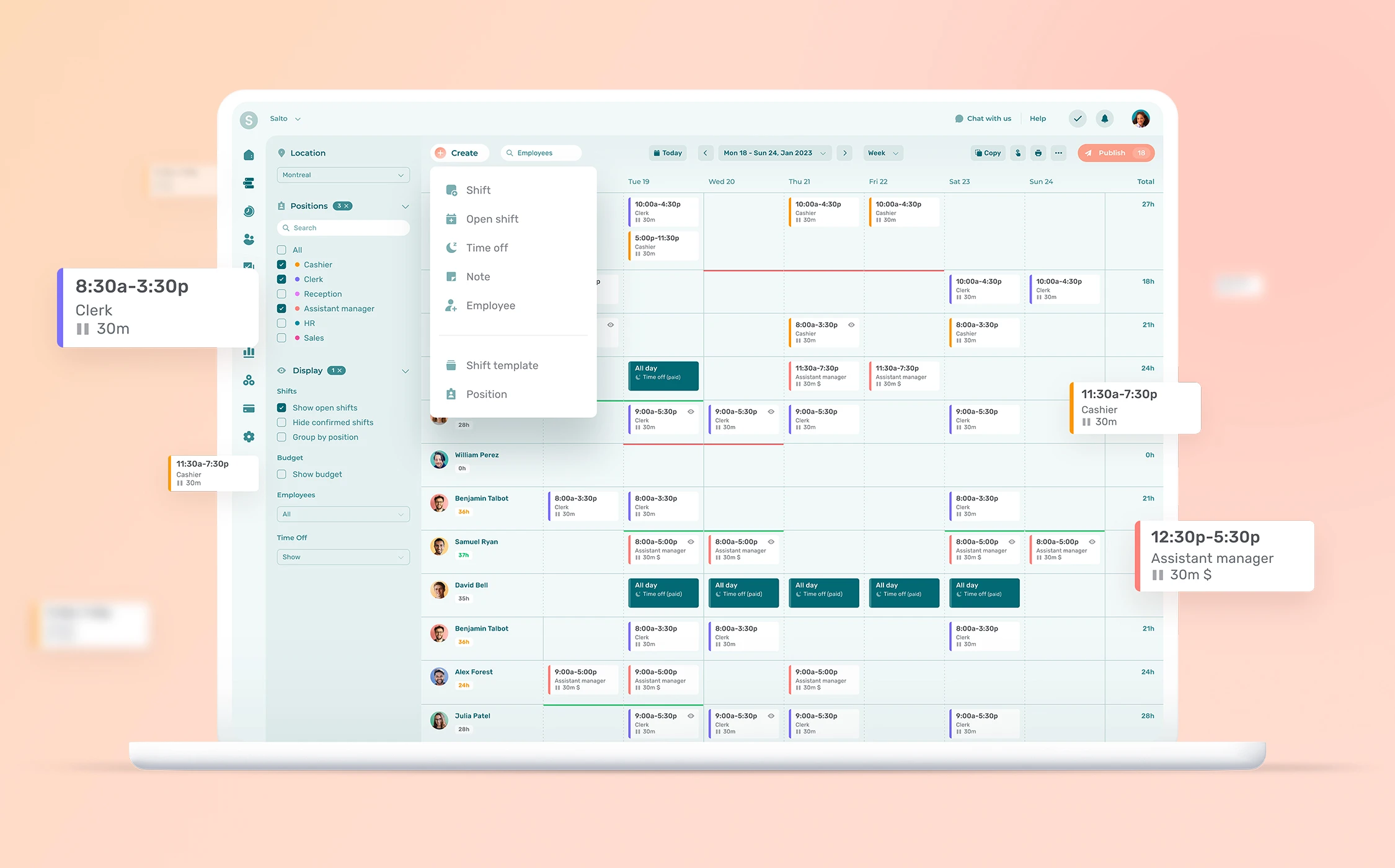 Manage employee availability and scheduling effectively
Having your employees' schedule of availability helps avoid ambiguities with work and deadlines and increases productivity.
When you're managing multiple shifts in a day, knowing which employee is available at any given time helps you plan and delegate work more productively.
However, without the right tools, managing employee availability can be a complex and time-consuming task. You may find it hard to keep track of schedule updates and to process the data after collection
Fortunately, employee scheduling doesn't have to be so hard. Agendrix dramatically reduces the burden of managing employee availability and allows you to build flexible schedules within minutes, and then share them with your team instantly.
And, you're no longer restricted to managing schedules from your office; you can create and manage schedules from wherever is most convenient, using any device of your choice.
How do you manage employee availability?
Ask your employees to input their availability, i.e. the days and hours they can commit to working during a week. You can either create manual forms, collect their availability via email, or use an employee scheduling software like Agendrix to fast-track the process.
How can I check availability at work?
Analyze the data collected through availability forms and create a spreadsheet that displays an updated schedule.
If you're using employee scheduling software, you can simply go to the dashboard and check which employees are available on a particular date.