Today we're introducing a great way to streamline the organization of your HR files with employee document management. A brand-new feature that lets you easily centralize all the HR documents of every one of your employees.
A must-have for managers, who already have enough to manage on a daily basis. Now gone are the days of performance reviews and contracts more or less neatly organized in a filing cabinet at the office, or hidden away in Google Drive.
HR documents and folders in one convenient place
The document management functionality allows you to create a hierarchical structure of documents and folders to easily store and view various types of documents relating to your employees. In other words, it's now possible to upload files— Word, Excel, PDF, images and many more—and associate them directly with an employee's profile in Agendrix This way, they're always easy to access.
You can also set who can view each document and file, depending on their role in your organization. For example, you could allow an employee to view their employment contract, but restrict access to their disciplinary file to a supervisor.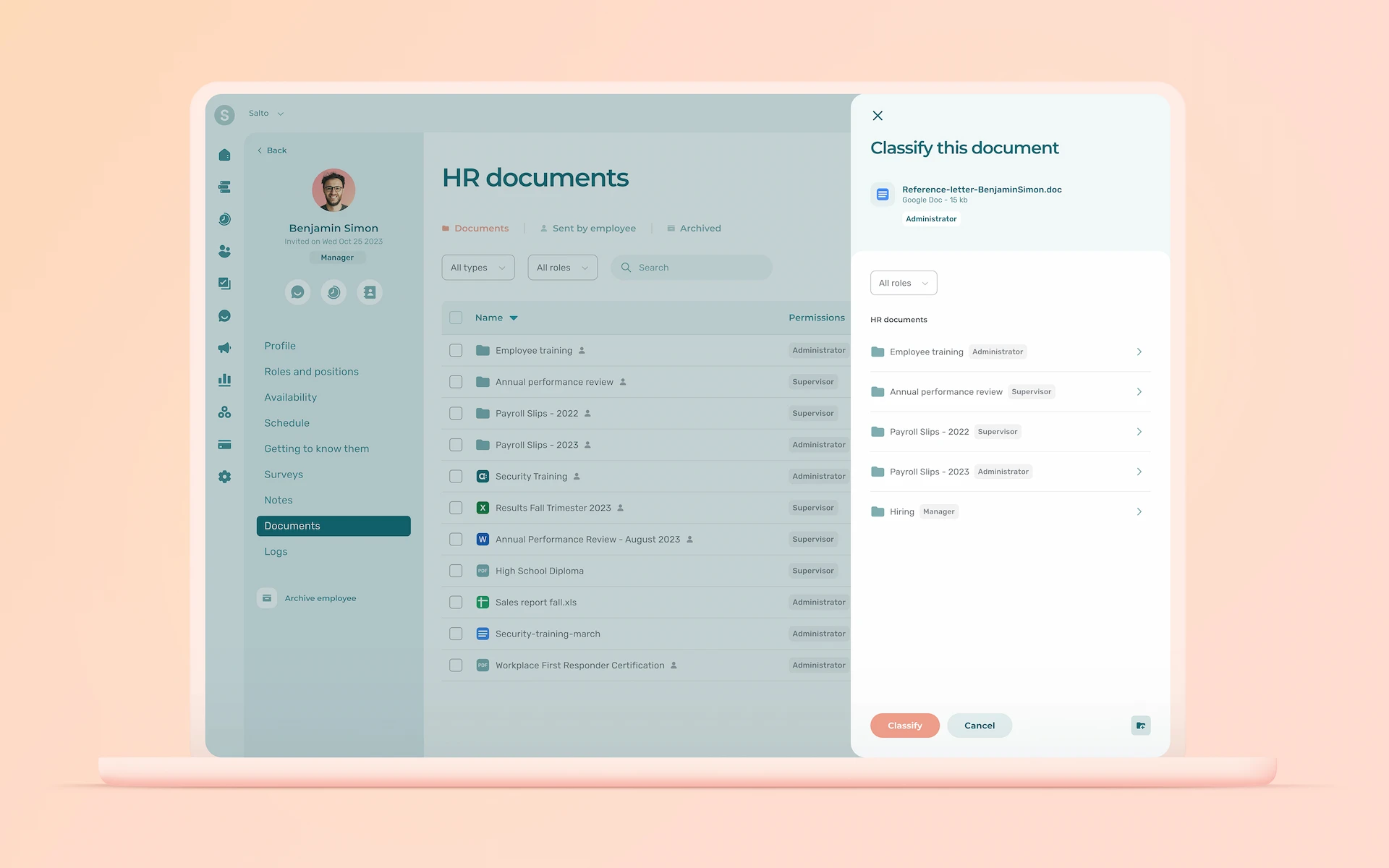 Simplifying two-way document sharing
The new file management feature also benefits employees, who can now submit documents to their manager directly in Agendrix.
Are you waiting for a check specimen to prepare a new employee's payroll information? Simply ask them to attach it to their employee record, where you can then easily find it. An employee asks you to send them their latest pay stub? Upload the document and give them direct access through their Agendrix file. Users receive a notification for every new document, so nothing goes unnoticed.
Finally, the mobile version of Agendrix also supports document sharing and management.
Ready to give it a try?
HR document management is available to members of organizations that are subscribed to the Agendrix Plus plan.
To access an employee's documents as a manager, hover over the HR tab in the left-hand menu, then click on Employees in the submenu. Click on the employee's name in the employee list, then click on Documents in the submenu.
Employees wishing to access their documents simply click on the new Documents tab in the left-hand menu.
To find out more about document sharing, read the this article on our Help Center.
Happy management!