Leading with his natural pragmatism, Mathieu started by writing up a list of the 12 most impactful practices in our company culture.
He then borrowed the talents of one of our designers, Samantha, to put together one of our most powerful slide deck presentations to date.
An inspiring presentation
In the week prior to the conference, Mathieu shared the most recent version of the presentation with me.
Aside from warning him that there might be too many slides given the time available, and reminding him of customer data-disclosure rules under our new ISO certifications,
I had virtually no suggestions.
I found the presentation incredibly inspiring. It was like reading an executive summary of the many potent measures we've put in place over the past 7 years as part of our "HR lab" approach.
Most importantly, it was practical, and I could immediately see how an audience of 100 different companies could immediately grasp how to apply the same measures at their own company.
Basically, it was a cheat sheet of our culture at Agendrix. Curious to learn more about this presentation? You're in luck, we just made a blog post with it.
Conway's Law
As I read the presentation, something else stood out to me—just how many of these measures came down to communication, which is so fundamental.
Out of the dozen or so ingredients Mathieu presented, nearly half were connected in some way to communication at Agendrix.
This immediately reminded me of an article I had read a little over a year ago on Conway's Law.
Conway's Law is the belief that organizations wittingly or unwittingly create systems and products that reflect their own communication structures.
Any organization that designs a system (defined broadly) will produce a design whose structure is a copy of the organization's communication structure.
— M. Conway
Conway's Law applied at Agendrix
Embodying our values
The first practice Mathieu presented was to communicate your mission, your vision and especially your values to your employees.
I am not teaching you anything new here. However, what's not so traditional is that our first and foremost value is "No bullshit."
Here at Agendrix, we aim to share information transparently yet respectfully. We learned long ago that being transparent means getting straight to the point and saying what matters, not elaborately getting into all the details.
How it has shaped our internal processes
With our employees, an example of this can be seen in our monthly internal update on the previous month's customer testimonials. The update must include the best and the worst feedback we've received.
For our customers, this translates into genuine action toward customer success. When we take one of their suggestions into consideration in a change we make, we let them know. And if the change is indeed approved, we follow up when the change is made. Conversely, if it's inconceivable for a change to be made to the app, we will explain this to them right away, and say why.
I would even say that this also applies to the candidates who apply to Agendrix, since we show salary ranges on our job postings.
After all, if a company offers a competitive salary, why be embarrassed to display it, or hide behind an expression such as "according to experience"? 🫠
An employee guide that we actually use
Having an employee guide is a common HR practice in the business world.
However, many companies that put considerable effort into creating a comprehensive guide have seen it quickly fall by the wayside.
If you doubt this, ask yourself… When was the last time you consulted yours?
In his presentation, Mathieu talked about the solution we have adopted to this problem: our collaborative employee guide.
With tools like CODA, anyone can quickly put together an employee guide using templates in the app and then share it with the entire organization or subgroups instantaneously.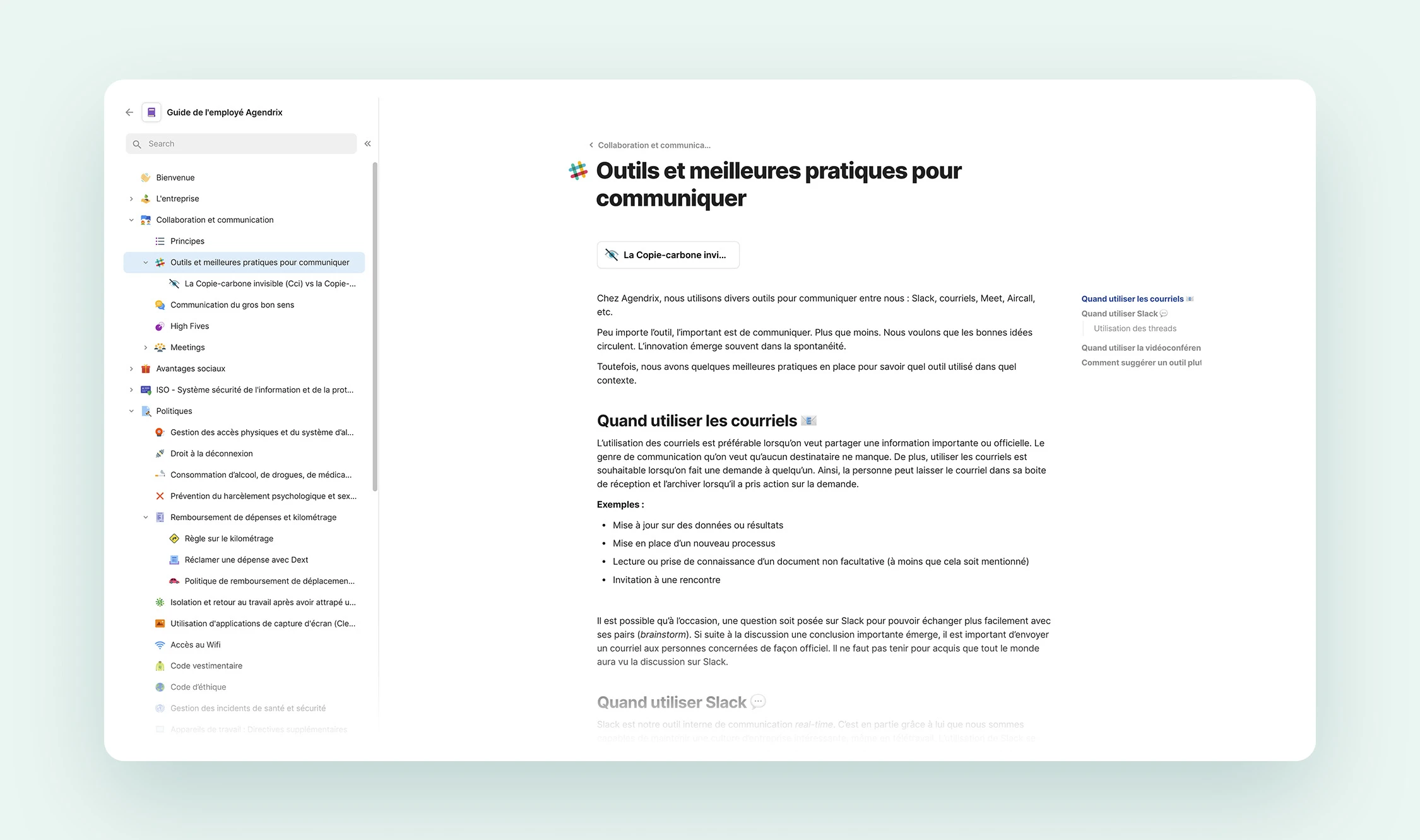 Some parts of the guide can even be unlocked to enable collaboration between different people.
Finally, the app has a powerful keyword search tool that facilitates employee searches, from how to consult the company's organization chart to how to find someone at the company, request access to new software useful for their work, or reserve corporate ski passes at Mont Orford. 🏔️
How it has shaped our internal processes
Because our guide is so readily available, our employees use it every single day. This requires us to keep it up to date and to add new sections regularly. The biggest benefit is the burden it takes off our managers' shoulders, because the reality is that it helps employees be more independent.
Candidates who apply to us also benefit from our collaborative guide. When they have specific questions on topics such as group insurance, the manager can literally export a page from the guide and send it along to the candidate. Wow effect guaranteed!
This empowering communication also extends to customers—the "customer" version of our collaborative employee guide is our de facto help centre. It contains nearly 300 separate entries and dozens of explanatory videos that clients can watch and directly respond to. And just like our employee guide, we strive to keep it up to date and to improve it every month.
The results speak for themselves, as our help centre, too, is actually used. Currently, it is consulted by more than 10,000 unique people every month—representing tens of thousands of page views.
Eliminating feedback delays
Over the years, we have found that decreasing the time between instances of feedback improves the visibility of key players. Simply put, continuous feedback is far superior to occasional feedback.
For example, we used to share a quarterly report of our performance with our shareholders, which is a common business practice. However, given the long time frames between each report, sometimes quite a bit could happen in three months, increasing the risks of surprises at the quarterly meeting.
For over 2 years, we have supplemented this feedback loop with a monthly video that addresses our Key Performance Indicators (KPIs). In this roughly 10-minute video, you can watch me explain our overall financial performance, achievements and struggles of the month.
Surprises are now few and far between, and I always end the video with a forecast for the coming month. The video has been such a hit that we decided to always share it with our employees, thus adding some weight to our promise of transparency.
How it has shaped our internal processes
Continuous feedback has many implications across all areas of our organization.
For employees, it means frequent one-on-one meetings with their manager (at least once a month). Formal evaluations take place every 4 months, giving managers greater flexibility to adjust working conditions and providing employees with more time to adjust if they need it. Like the quarterly updates for our shareholders, having continuous feedback for employees lowers the risks of unpleasant surprises during their performance evaluation.
Along similar lines, candidates who are not selected after an interview are always followed up with, and those who are selected receive a welcome email prior to their arrival detailing their first day and first week on the job. They can also find answers to questions about their HR file directly via the Agendrix platform, or obtain helpful information in advance,
Finally, our customers benefit from more frequent update cycles (up to every Wednesday, depending on the case), as well as beta testing programs for our power users and early previews of new features, in order to reduce the risks of shock caused by unexpected changes to the app.
Toward an Agendrix-style cheat sheet
The more I write, the more ideas come to mind about our product's design and many features directly inspired by our own internal communication style. But I'll stop here, in keeping with our commitment to clarity and concision!
In the meantime, while waiting for the complete article on Mathieu's presentation, I hope this post and the examples I've provided will inspire you to reflect on the communication structures at your company.
The fact is that, wittingly or unwittingly, these structures have a considerable impact on your employees' well-being, your customers' satisfaction, and the performance of your organization.